YOUTH
Welcome to the student ministry at First Baptist! Our ministry is designed for all youth (and parents of youth) 6-12th grade.
The goal of our student ministry at First Baptist Church is to help youth understand and embrace their faith as they find their place in community and grow into adulthood within the church as full members of the family of God ready to serve and share the good news of Christ with the world.
What does that mean?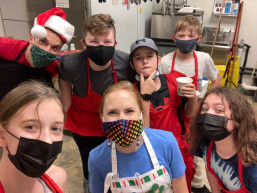 For youth it means we believe you are important. It means we want you to be a part of the whole church, not just the youth group. It means we think God doesn't just love you, but God likes you too (just as you are). It means we believe God does not limit you based on your gender or sexuality. Both are gifts from God, in their many expressions. It means we know God has plans for your life and we want to see what that looks like and help you figure it out together. It means we believe that following Jesus is still relevant and we want to show you that, not just tell you that. It means that we know that over the years the Church has not always been the most kind and welcoming place, and we want you to help us change that. We don't expect you to be perfect. We do expect that you have a lot more questions than answers, and we are okay with that. We do ask that you be respectful of others and their questions and struggles. We believe this church is a place of belonging, a place for figuring out your life, a place you can turn to, and a people that believe in you.
For parents it means we want to partner with you. We know that adolescence is one of the hardest times of life (it's right up there with being the parent of an adolescent). We know your worries and your fears for your student and can offer a community to help steady you. We know it takes a village to raise a teenager and our church is actively working to connect our students to the larger life of the church through inter-generational relationships, creative participation, encouragement, and commitment to Christ and to the Church. We do this by intentionally working to involve our students in worship, by creating an adult network of support and care, by equipping and empowering parents to shape their student's faith, by helping students grow in their faith, and by showing our youth that they are not just the Church of tomorrow, but that they are very much a part of the Church today. We understand that we have to work together to do this. We want parents to be a part of our ministry, as we are a part of yours. We know that the biggest factor that shapes a student's faith is their parents, and we want to invest deeply in family and community to help you be as successful as possible. That is our commitment to you.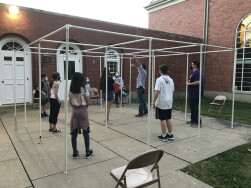 Ways we connect:
Youth Sunday morning small groups meet in person at 10:15am each week in the youth suite. Sunday mornings tend to embrace the rhythm of the church year and help students connect to each other and the larger life of First Baptist.
The calling (our weekly Wednesday night gatherings during the semester) meets from 6:00-7:15pm in the youth suite on the 3rd floor. Enter by the playground from the church parking lot and head up the stairs.
Summer gatherings and youth camp. In the summer we break from the weekly routine and meet at various times and locations for fun outings and memorable events. Summers are also a time for youth camp, mission trips, and/or family camp, depending on the year.