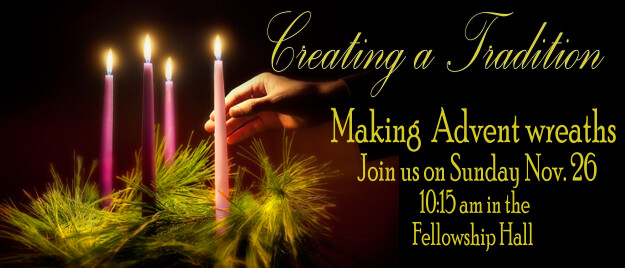 Sunday, November 26, 2017, 10:15 AM - 11:15 AM
Advent Wreath Workshop
Join us for an intergenerational Advent event on Sunday, November 26 at 10:15 a.m. during the Small Group Hour. We will have all the supplies (a wreath form, greens, wire, candles, and some ribbons) for you to make an advent wreath that you can use in your home! The wreath can become a centerpiece that calls you to enter into the hope, peace, joy and love found in God's gift of Jesus. You will also receive a simple Advent devotional with a reflection for each week that will guide you through the season. There is a suggested donation of $20 per Advent Wreath. We will work while listening to Christmas Carols and enjoying hot apple cider.
Please RSVP to the church office at and let us know you plan to make a wreath.
The Children's Ministry and Youth Ministry will be participating in the workshop in lieu of Small Group. They will be making personalized wreaths and participating in other advent activities.