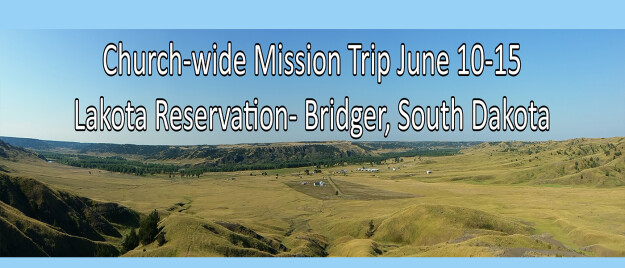 Saturday, June 10, 2017, 12:00 AM - Thursday, June 15, 2017, 12:00 AM
Mission Trip to South Dakota Following on last summer's wonderful youth mission experience at Bridger, South Dakota, the 2017 experience will be open to people of all generations. The week of June 10 – 15 we will take up to 20 people to the reservation for light construction work, building fencing for horses, engaging in the community, and connecting with the kids on the reservation. If you are interested in going, please contact Michael McEntyre at .


What: Church-wide Mission Trip to Bridger, SD to work with the Lakota people. When: We will leave early in the morning on Saturday, June 10th and start back on Thursday, June 15th. Who: This trip is open to our entire church family. While our main efforts will be in construction, there are lots of opportunities to be involved. We need cooks, conversationalists, construction workers, kids to play in the community, horse wranglers, photographers/videographers, fence post drivers, medical care givers, and more. How much: The trip will cost $110 per person. A $50 deposit is due by April 16th. Money pays for food at the site, transportation, project fees, and utilities/accommodations (Reminder, we sleep in the church and fellowship hall on the floor. You will bring your own mattress and/or sleeping bag. Weather permitting, camping/sleeping outside is possible. Participants are responsible for food while traveling).