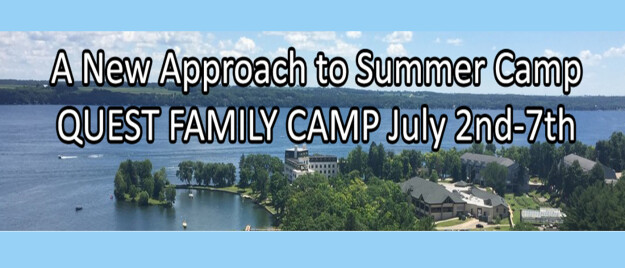 Sunday, July 02, 2017 - Saturday, July 08, 2017
A New Approach to Summer Camp- QUEST FAMILY CAMP, July 2nd-7th ($50 deposit due April 23rd)
One of the main goals of our Student Ministry is to develop our ministry to and with families. Parents are still the number one factor for influencing the faith of their kids. We strive to help equip parents and students with the tools and support needed to grow in faith together as a family. We also recognize that the roots of youth ministry need to extend deep into childhood and grow beyond graduation. That is why we are excited to offer something a little bit different in the way of camp this year. Our student ministry is inviting all of our families with kids from preschool to college to join us for Quest Family Camp.
What is Quest Family Camp? Think of it as a youth camp, kid's camp, an adult retreat, your family vacation, and a place to get away and be with God all rolled in to ONE!
How will that work?
* Students grade 6-12 will have the Quest experience with separate rooming, Bible Study tracks, evening events, etc. All of this will still be directed by the Quest staff as it was last year.
* Concurrently, Quest will offer tracks for adults, college students, and elementary school kids, as well as childcare for infants and toddlers.
* Youth and kids will have time with their own age group as well as times of corporate worship and play with everyone.
* Adults will find time for: quiet prayer, relevant Bible Study experiences and group discussions on parenting and faith, opportunities to enjoy the facilities including hiking, time on the lake, or even a round of golf, and more.
* As an added bonus, the camp is incorporating a date night just for adults, giving couples time to reconnect while their kids enjoy planned activities.
How much will it cost?
To show that we value this shared experience for our families, we are lowering the cost for adults and young children to attend.
The cost of camp for youth/ college students is the same as last year, $230. (This is already reduced from the $279 registration cost for Quest Camp).
We are reducing the cost for parents down to $200 a person in hope that you will seriously consider investing your time in this endeavor.
On top of that, kids ages 6-11 will only pay $150 per person and kids under 5 are FREE (the camp does include childcare during scheduled parts of the day).
As an added incentive, no family will pay more than $750 total for registration.
To give some perspective to this offer, Passport camp the same week at Furman University would cost $405 per camper. A 2 night cheerleading camp at Mizzou this summer cost $329 per athlete. You couldn't even book a room at the Quality Inn at lake of the Ozarks that week for under $450. When you include travel, meals, lodging, and activities for the week, this is a great deal.
Not only does this promise to be a great camp experience, but will give our church members the opportunity to build shared memories and grow together in faith and support. We hope you will make every effort for everyone in your family to join in. Send in your $50 deposit by April 23rd and register below to reserve your spot. If you have questions, please don't hesitate to contact Michael McEntyre at . We are excited to see what God is up to with this brand-new opportunity for Quest Family Camp!