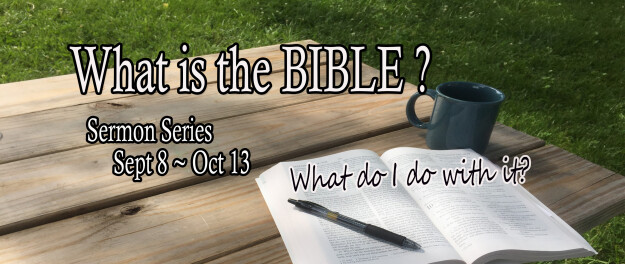 Every Sunday, from 09/08/2019 to 10/13/2019, 9:15 AM - 12:00 AM
Fall Sermon Series September 8 - Oct. 13, 2019
Progressive Christians are really good at deconstructing the Bible,
which means we know what we don't believe. We don't believe the
Bible is a rule book, instruction manual or a science book. We don't
use words like inerrant or infallible to describe the Bible. We know
what we don't believe. At the same time, Progressive Christians
are not as good at articulating what we believe about the Bible.
Particularly, as Baptists, the Bible is important to us; we are people of
the book! But if the Bible isn't a rule book or a science book, what is
it? In addition, we know the Bible didn't just drop from the sky fully
formed, but what do we mean when we say the Bible is inspired? And
let's be honest, parts of the Bible are deeply disturbing.
How do we handle passages like Joshua 6:21, which
says the Israelite conquered Jericho and "They devoted
the city to the Lord and destroyed with the sword every
living thing in it—men and women, young and old, cattle,
sheep and donkeys"? Murdering "every living thing"
as devotion to God- that is downright scary!
Our fall sermon series and summer book club discussions, which begin this Sunday, September 8, and our annual Sheppard Lecture on October 19 and 20 are devoted to answering these
questions and more. I hope you will join us for a deep theological dive into the Bible. We are going to wrestle with the text and these questions, debate the mystery of scripture and hopefully, come
out on the other side with a deeper understanding and love for the Bible. I hope you will join us for this important series.

What is the Bible? Sermon Series Topics

Sunday, Sept 8 What is the Bible?
Sunday, Sept 15 The Bible isn't as clear as we'd like it to be
Sunday, Sept 22 The Bible is diverse
Sunday, Sept 29 What do we mean when we say the Bible is inspired?
Sunday, October 6 The Bible is sometimes disturbing
Sunday, October 13 How do we read the Bible, then?