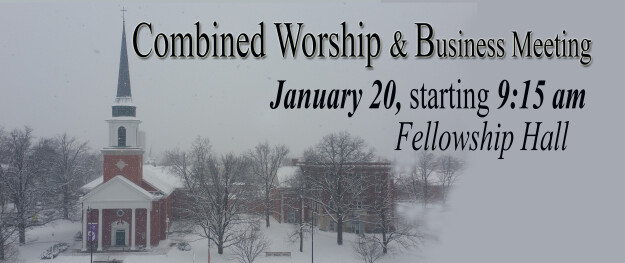 Sunday, January 20, 2019, 9:15 AM - 12:15 PM
Combined Worship & Annual Business Meeting

Join us on Sunday, January 20 at 9:15 am in the Fellowship Hall for Combined Worship and our Annual Business Meeting.
We will pause to look back at the highlights of the last year and celebrate all that God has done in and through us. We will talk about ministry plans for 2019. We will vote on the Nominating Committee report and the 2019 budget.
For Parents:
The nursery (Birth-Age 3) will open at 9:15 and remain open until the business meeting ends.
3- 5 year olds can also be dropped off the in nursery at 9:15 prior to worship. Our professional staff will escort them to the 3rd floor Children's Ministry area for a time of learning, stories and play until the
business meeting ends.
1st - 5th graders are encouraged to participate in worship with their family. After worship, at 10:15
First Kids Sunday School will meet as usual during the business meeting.