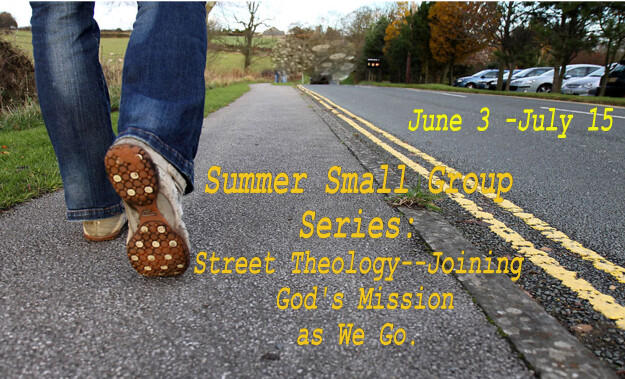 Every Sunday, from 06/03/2018 to 07/15/2018, 10:15 AM - 11:00 AM
Street Theology -
Joining God's Mission as We Go God invites us to join in the work of reconciling all of creation. Which means, church isn't meant to be just a once-a- week gathering but a community that emphasizes an incarnational, servant approach to all of life. This summer, we invite you to join in a dialogue about viewing our lives together through four theological lenses that help frame what we are called to be as disciples of Jesus and co-creators with God as we go. It is street theology - joining God's mission as we go, wherever we are!
From June 3-July 15,
our Sunday Morning Adult Small Groups will be coming together and gathering in the parlor at 10:15 for a combined small group series entitled Street Theology- Joining God's Mission as We Go.
For the first few weeks, Rev. Brian Ford, a regular attender at Awakening Worship, will be leading us; then, Associate Pastor Michael McEntyre will take some of what was discussed and talk about how it applies to our approach for ministry with the Lakota people in South Dakota.