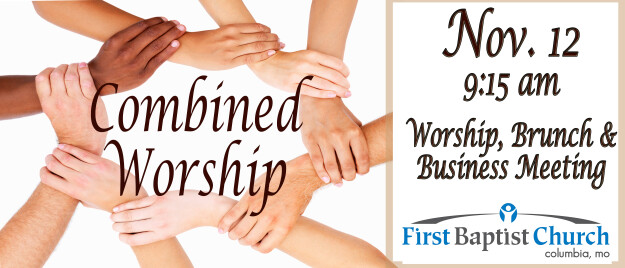 Sunday, November 12, 2017, 9:15 AM - 12:00 PM
Combined Worship Brunch and Business meeting
Starting at 9:15 AM in the Fellowship Hall


"For all that has been thanks, for all that will be yes!" is our theme for commitment Sunday, November 12, and next year's visioning process, which will engage the whole church in celebrating what we love about First Baptist and dreaming about what God is calling us to be and do in the future.
The theme comes from Dag Hammarskold who was the second United Nations Secretary-General, and a Nobel Peace Prize recipient. His words fit this time in our church life. The phrase "For all that has been" celebrates our memories and gives gratitude for God's faithfulness through the years, so we say "Thanks." The words "For all that will be" blesses all that we anticipate God will do among us and through us in the future, so we say "Yes!"
On commitment Sunday, which is also combined worship, we will meet at 9:15 in the Fellowship Hall. I will be sharing where I think we are as a church and talking about the visioning process. It takes all of us contributing financially to make the ministry and mission of First Baptist possible. In the coming weeks, you will be receiving a letter with a pledge card in the mail. Sit down with your family, look at your budget and your income, and consider what you might give to your church next year. If you have never given start small, if you need to. Then, consider how you might increase your giving a little bit each year. To those of you who have been giving faithfully for years, thank you. On commitment Sunday, you will be invited to bring forward your pledge cards, indicating how much you can commit toward the budget in 2018. It is a privilege to give and contribute to the work that God is doing at and through First Baptist.