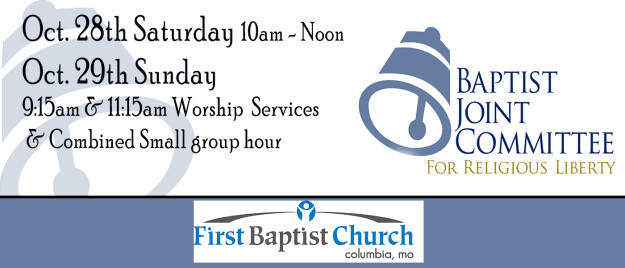 Daily, from 10/28/2017 to 10/29/2017, 10:00 AM - 12:00 PM
Liberty & Justice for Some? Understanding Our Baptist Identity
You don't want to miss our Fall Sheppard Lecture, October 28-29, featuring Amanda Tyler, Executive Director of the Baptist Joint Committee for Religious Liberty (BJC). Primarily an education and advocacy organization, the BJC is a leading voice in Washington, D.C., fighting to uphold the historic Baptist principles of religious freedom and separation of church and state. Composed of representatives of 15 national, state and regional Baptist bodies in the United States and supported by thousands of churches and individuals across the country, the BJC is the only faith-based agency devoted solely to religious liberty and the institutional separation of church and state.
Why does the Baptist Joint Committee support church-state separation?
The separation of church and state, or the "wall of separation" talked about by early Baptist Roger Williams, U.S. Constitution framer Thomas Jefferson, and the U.S. Supreme Court, is simply a shorthand metaphor for expressing a deeper truth. Religious liberty is best protected when church and state are institutionally separated and neither tries to perform or interfere with the essential mission and work of the other.
Every summer, I attend the BJC annual meeting because I am fascinated by their work! Besides educating congregations and legislators about religious liberty, the BJC also monitors legislation relating to church-state matters, joining coalition efforts for or against a bill, and leading congressional staff briefings on the need for or implications of a bill. For example, the BJC filed a friend-of-the-court brief in Trinity Lutheran Church of Columbia v. Comer case, a religious liberty case that began right here in Columbia and was ruled on by the Supreme Court this year. I hope you will make plans to join us for the Fall Sheppard Lecture and learn more about the historic Baptist principles of separation of church and state and religious liberty.
Saturday, October 28 10-Noon in the parlor: How the Baptist Joint Committee Defends Religious Liberty for All
Child care will be available Saturday for infants in the nursery and Yvette Chambers, Director of Children's Ministry, will coordinate a fun filled morning for children, including fall canvas painting, cookie decorating, and pumpkin painting! To register for child care contact Yvette Chambers at

Sunday, October 29 9:15 Awakening & 11:15 Traditional Worship: Loving and Knowing our Neighbors
Sunday, October 29 10:15 Combined Small Group and brunch in the fellowship hall: Politics in the Pulpit