Word from our Pastor
A word from our Pastor, Carol McEntyre: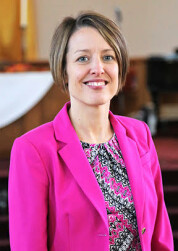 Thank you for taking the time to check out the First Baptist Church website.
From the moment I arrived at First Baptist, I felt at home. I love First Baptist's creative worship services, which have great music and are often enhanced with art. I admire the church's commitment to building a diverse yet loving community. I respect First Baptist's long history of progressive theology, which welcomes everyone, gives both men and women the opportunity to serve God and creates space for us to ask deep and difficult questions about God together.
We invite you to become a part of our community. Start your journey this Sunday by visiting one of our two worship services!
If you have questions about First Baptist, you can reach me at or 573-442-1149.
- Pastor Carol McEntyre