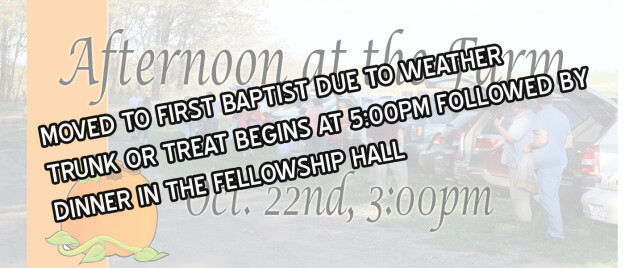 Sunday, October 22, 2017, 4:45 PM - 7:00 PM
DUE TO WEATHER, THE AFTERNOON AT THE AFTERNOON AT THE FARM HAS BEEN MOVED TO THE CHURCH. WE WILL TRUNK OR TREAT BEGINNING AT 5:00PM, FOLLOWED BY DINNER IN THE FELLOWSHIP HALL.
Join us for an afternoon of activities, fellowship, and terrific food on Sunday, October 22nd, 2017.
Schedule of Events:
5:00 pm Trunk-or-Treat
Please bring a bag or two of your favorite Halloween Candy...place in trunk...and at 5:00 pm our kids will go trunk-or-treating!
Dinner to follow
Meat, beverages and table service will be provided.
Bring a side dish to share!
Directions:
1112 E Broadway in the parking lot and Fellowship Hall