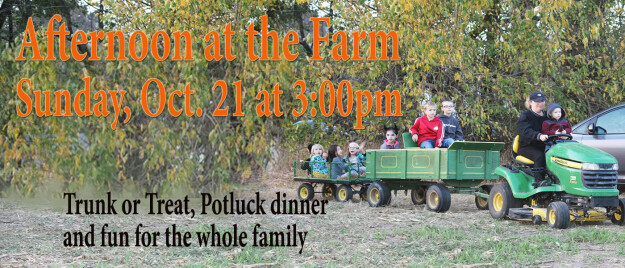 Sunday, October 21, 2018, 12:00 AM
Schedule of Events:
3 pm Hayrides and Conversations
4:30 pm Trunk-or-Treat
Please bring a bag or two of your favorite Halloween Candy...place in trunk...and at 4:30 pm our kids will go trunk-or-treating!
5 pm Dinner
~Meat, beverages and table service will be provided.
Bring a side dish to share!
Directions:
Go west on I-70 to the Midway Exit; take a right on Hwy 40; take a right on Route J; travel on J until you get to the water tower; make a hard right on Boothe Lane at the water tower. Go straight until this road bears left - the gate to the farm will then be on your right
If you get lost, call Nick Kieffer:
573-489-7325