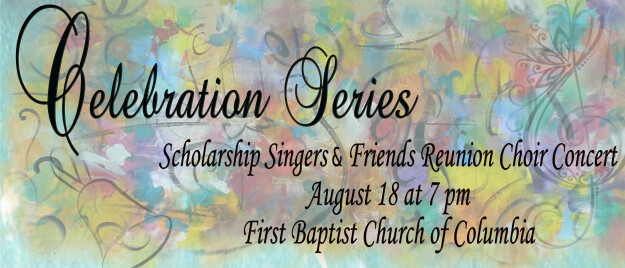 Saturday, August 18, 2018, 7:00 PM - 9:00 PM
In 2005, First Baptist Church of Columbia developed a "scholarship singer" program to enhance the Chancel Choir and to encourage music students to gain experience in working with and leading a volunteer choral program. During their tenure, students engage in an intergenerational music ministry serving as section leaders and, on occasion, guest conductors for the choir. Through the years it has been fulfilling and rewarding to watch scholarship singers develop friendships and add their talents to the worship of God in this place.
To celebrate Ed Rollins' 30 years of ministry at First Baptist, a reunion concert of all current and former scholarship students was organized. Of the 17 total scholarship singers, 14 are planning to return for the concert weekend. A few spouses and friends were added to the ensemble to help balance the sound.

On Sunday, August 19 at 11:15 am, the group will sing several selections during worship.